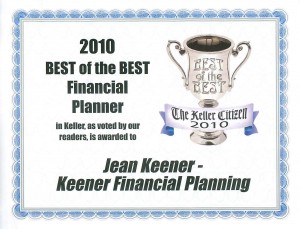 Thank you Keller Citizen readers for voting Keener Financial Planning Best Financial Planner again for 2010!  The Keller Best of the Best issue for 2010 publishes September 22, and I was delighted to find out yesterday that, through your votes, Keener Financial Planning was selected for the second year in a row.
Keener Financial Planning did not pay to receive the award, but we did have the opportunity to purchase advertising in the Best of the Best advertising special section after receiving the award.  The award was the result of Keller Citizen readers voting for their favorite business in wide range of categories.  Keener Financial Planning was top recipient of votes in the Financial Planner category.
Keener Financial Planning's mission is to provide objective financial advice on an as-needed advice to residents of Keller and surrounding areas for retirement planning, investments, college planning, and other financial decisions.  Thank you to all of you who voted.  Your support is greatly appreciated.