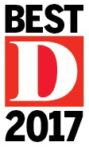 We are honored to have made two of D Magazine's 2017 lists.  Our firm was included on the Top Wealth Managers list, and I was honored as one of the Best Financial Planners.
The Top Wealth Managers in Dallas list is compiled based on a series of criteria shared on D Magazine's website.  We were one of 25 firms included on the list.  One of the criterion is serving clients as a fiduciary, which we are proud to have done since the firm's founding in 2008.  Other factors include client retention, assets managed, and length of time in business.  Because of our team's focus on providing truly personalized financial planning and client service with a non-traditional fee-only approach, this recognition means the world to us.   Thanks to D Magazine and the review panel for including us.
The Best Financial Planners in Dallas list is based on peer nomination through the Dallas-Fort Worth Financial Planning Association.  I was one of many selected for this honor.  Each spring, D Magazine asks Certified Financial Planners in the Dallas-Fort Worth chapter of the Financial Planning Association to nominate their peers who deserve the title of Best Financial Planners in Dallas.  A panel of esteemed local financial planners reviews the nominations. Only CFP® professionals in good standing make the list. An individual must receive at least one nomination to be considered for the list. It's always a special moment to receive the affirmation and respect of your financial planning peers.   Thank you for including me in the list.  I look forward to continuing to provide advice to clients from all walks of life to help them reach their goals.
Keener Financial Planning does not pay for inclusion in either of these lists, but we did have the opportunity to purchase advertising in the D Magazine Top Wealth Managers and Best Financial Planners special section after receiving the awards.  Please review our full disclosure about awards.