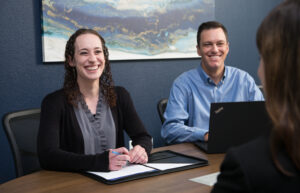 If your dream job is real financial planning with clients from all walks of life, we'd like to visit with you. Our financial planning associates get to see the impact of their work every day. We do not require a minimum amount of assets for clients, which allows us to work with people from a broad range of socioeconomic levels.
As a small, fee-only firm in Keller, TX, each person on our team makes a difference. We are looking for a career changer who has completed the educational requirements toward the Certified Financial Planner(TM) designation or a recent college grad with a degree in financial planning. Your aptitude, strengths, and values are more important than specific industry experience.
As a Financial Planning Associate, you will prepare and update financial plans, participate in client meetings while developing strong client relationships, provide detailed follow-up, and collaborate with other members of the planning team (including the firm principal). Because we're fee only, product sales are NOT part of the job. Working with both hourly and ongoing clients enables you to build a broad range of financial planning knowledge.
Financial Planning Associate Career
Keener Financial Planning offers a career path based on your goals and the needs of our company to grow as a supporting advisor and/or take on lead advisor responsibilities. We find our supportive mentorship and training enables our planners to develop their best planning and client relationship skills. There are also potential future firm ownership opportunities.
Competitive salary based on skills and experience plus quarterly bonus potential. Company paid health, dental, vision, life insurance, and holidays. 100% 401(k) match up to 6% of pay. After 90 days, employees are also eligible for paid vacation time. Flexible in-office and remote hours once fully trained. We are an equal opportunity employer and we are dedicated to providing an inclusive environment for all employees and clients.
Send your resume and cover letter to Director of Operations, Kelli Hinton – [email protected] to apply for this position and learn more information.