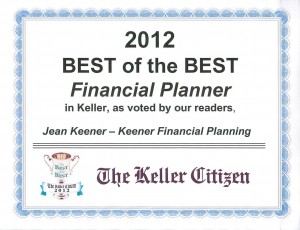 Thank you to the readers of the Keller Citizen for voting Keener Financial Planning Keller's 2012 Best of the Best Financial Planner again this year!  We greatly appreciate your support.
Keener Financial Planning's mission is to provide objective, expert financial advice tailored to your unique situation on a fee-only basis. Your concerns may be retirement, college, rebuilding after divorce, changing careers, getting control of your finances, investing more effectively– or likely some combination of those and others. We take your goals, work with you to discover the best path to reach them, and define clear action steps to get you there.
Keener Financial Planning did not pay to receive the award, but we did have the opportunity to purchase advertising in the Best of the Best advertising special section after receiving the award.  The award was the result of Keller Citizen readers voting for their favorite business in wide range of categories.  Keener Financial Planning was top recipient of votes in the Financial Planner category.
Look for the "Best of" special section in the Keller Citizen on Wednesday, October 24 to see all of the winners.  Thanks again for your support!