Your Retirement Savings Game Plan
Free Workshop at Keller Public Library on Tuesday, April 20 at 6:30 pm.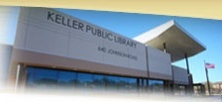 Designed for individuals and couples who are pre-retirement, we will cover how much you need to save for retirement and the best types of accounts to use for different situations for investment options and tax efficiency. We will also go through some worksheets to determine if you are on track with your current level of retirement savings. Space is limited and registration is encouraged to ensure your space. RSVP to
[email protected]
.