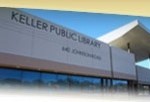 I will be hosting a free investment workshop at the Keller Library on Tuesday, May 17 at 6:30 pm.
This workshop will cover the fundamentals of successful long-term, goals-based investing.  Effective investing doesn't have to be complicated, but with so much information available, it can be difficult to tell fact from fiction.  This workshop will reveal common pitfalls and investing myths and share information on how to avoid them.   You will learn:
 The importance of keeping your investment costs low
How to build a diversified, balanced portfolio
How to know when to rebalance
The relationship between risk and return
Registration is encouraged for planning purposes to [email protected].