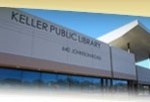 I am conducting a free personal finance workshop on social security planning strategies at the Keller Public Library on Tuesday, November 16 at 6:30 pm.  Personal finance workshops are held the third Tuesday of each month at the library, and this will be the last time the social security topic will be addressed in 2010.
The session will cover what baby boomers need to know to maximize their retirement income.   Attendees will learn:
5 factors to consider when deciding when to apply for benefits
Why you should always check your earnings record for accuracy
How to coordinate benefits with your spouse
How to minimize taxes on Social Security benefits
How to coordinate Social Security with your other sources of retirement income
You are welcome to attend and bring your questions!  The last time this workshop was held in August, we had quite a few excellent questions from the audience that helped everyone learn more about unique social security filing strategies and the rules that apply to them.  Seating is limited, so please RSVP to [email protected] to ensure your space.