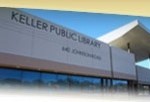 I'm providing a free personal finance workshop at the Keller Public Library on Tuesday, March 15 at 6:30 pm on Structuring Your Retirement Income.  This retirement income workshop is designed for residents of Keller and surrounding areas who are in or near retirement. 
Investing for retirement income is different than accumulation.  To help you with this transition, we will cover:
differences in investing for accumulation and retirement drawdown
coordinating your portfolio withdrawal strategies with other sources of income
how to make decisions on pensions and annuities
how to balance investing for protection against inflation and market fluctuations
changes you need to start making in your portfolio 3 years before retirement
RSVP to [email protected] for planning purposes.  A drawing will be also held for a free copy of Daniel Solin's The Smartest Retirement Book You'll Ever Read.