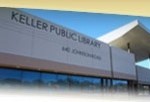 I will be offering a free Keller retirement planning workshop at the public library on Tuesday, April 19. 
There are many uncertainties in saving for retirement right now.  Even if you never plan to retire, planning for that day when work becomes optional still carries a lot of unknowns.  In this workshop, we will cover how you can take control of your retirement plans by focusing on your personal savings, investing, and tax efficiency.  This workshop is designed for those more than 5 years away from retirement.  We will cover how to:
determine retirement income needs
assess the gap between guaranteed sources of retirement income and your spending needs
prioritize retirement savings and investing strategies to fill the gap
review which savings methods are most tax-efficient for your situation
calculate if you're on track for your retirement goals
create a plan flexible enough to accommodate future uncertainty
The workshop is free, but RSVP is encouraged for planning purposes to [email protected].  A drawing for a free copy of The Investment Answer by Daniel C. Goldie and Gordon S. Murray will also be held.